 Empowering tax payers to remain ahead with compliance in field of taxation in India
myIndiaTaxes App currently offers
• Tax Calculator for Income Tax in India
• Instant update of GST filing dashboard
This app will be updated from time to time which would provide additional tools to assist tax payer remain complaint with various statutory requirements.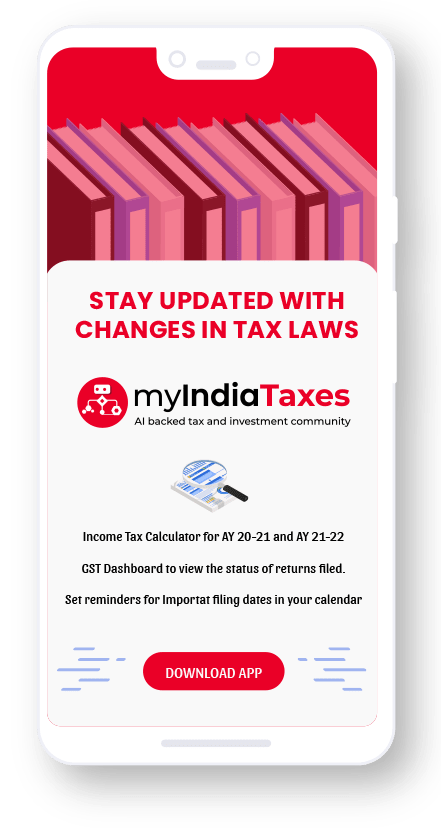 How The App Works
MyIndiataxes App – once downloaded, Tax payer is required to enter mobile number and he receives OTP to activate the App.
Tax Calculator for AY 20-21 and 21-22 may be used covering income from,
a. Salary
b. House Property
c. Capital Gains
d. Business
e. Other Sources
The App further provides entry of payments and investments made which qualify deduction under chapter VI-A where-in eligible deductions are computed and reduce Income from various chapters to arrive at Taxable Income.
The App further provides facility to enter details of advance tax paid along with self-assessment taxes from where interests u/s 234B and 234C are computed.
App also provides user to enter date of filing of return, thereby computes interest u/s 234A.
GST And INDirect Tax Articles
Date – 24 May 2021 GOVERNMENT OF INDIAMINISTRY OF FINANCECENTRAL BOARD OF DIRECT TAXDIRECTORATE OF INCOME TAX (SYSTEMS)NEW DELHI [DGIT(S)-ADG(S)-3/e-Filing…
Date – 24 May 2021 GOVERNMENT OF INDIAMINISTRY OF FINANCECENTRAL BOARD OF DIRECT TAXDIRECTORATE OF INCOME TAX (SYSTEMS)NEW DELHI [DGIT(S)-ADG(S)-3/e-Filing Notification/Form34BB/2021] NOTIFICATION NO 05/2021; Dated: May 24, 2021 Procedure for exercise of option under sub-section (1) of section 245M and intimation thereof by furnishing and upload of Form No. 34BB under sub-rule (1)of Rule 44DA of Income-tax Rules, 1962 In exercise of the powers conferred by the Department of Revenue, Ministry of Finance, under sub-rule (3) and sub-rule (4) of Rule 44DA of the Income-tax Rules, 1962 ('the Rules'), the Director General of Income Tax (Systems) hereby specify the following…
Trending Posts
Lorem ipsum dolor sit amet, consectetur adipiscing elit
Date – 24 May 2021 GOVERNMENT OF INDIAMINISTRY OF FINANCECENTRAL BOARD OF DIRECT TAXDIRECTORATE OF…
Trending Posts
We have created classic post and article for you